Corona Virus Update (posted 28.04.21)
All Group walks remain suspended
As the Government lockdown restrictions are being gradually lifted Step Out Sheffield is working towards re-starting some weekly walks from 21st June 2021. Unfortunately it will not be possible to re-launch all walks in the summer but we aim to re-start as many as possible by the end of the year. For further information on the availability of specific walks please ring our helpline on 07505639524.
Corona Virus Update (posted 08.01.21)
All Group walks remain suspended
The current lockdown has been designed to try and limit the effect of the new C-19 variant. Whilst we may no longer walk in small groups, we are permitted to exercise outside in our family bubble or with one other individual. Please continue to observe the hands, face, space advice and continue to conform to the social distancing rules.
Corona Virus Update (posted 20.12.20)
This update follows yesterday's revision of Covid rules, otherwise known as the 'Boris bombshell'. Sheffield remains in Tier 3 meaning that we can meet outside to walk with up to six other people. However, we are not allowed to cross the border to walk in other Tier 3 areas. Now the Pfizer Biontec vaccine is available, and the Oxford vaccine expected very soon, we hope it won't be too long before we can safely relaunch some our walks. Discussions with the volunteers who deliver each of our 28 walks will commence in the New Year, with a view to hopefully starting at least some of them before Easter. We will publish any relaunch details as soon as they are available. However, our plans will naturally depend upon Government guidelines and, as we are all learning, these can change at very short notice. We hope you have a pleasant Christmas break and wish you a happy and Covid-free New Year.
Corona Virus Update (posted 4.11.20)
Step Out Sheffield has today been advised by Walking for Health that all Ramblers group activities including health walks and volunteer walk leader training are suspended from 5th November in accordance with Government directives. The Government advise that the current lockdown will last until 2nd December, possibly longer. In the meantime we remind you that outdoor exercise has a positive effect on the immune system as well as on mental health, and we strongly recommend that you continue to walk daily either on your own or with one other person as per the Government guidelines for the current lockdown.
Corona Virus Update (posted 24.9.20)
Committee members counselled volunteers throughout the month of August and met at the end of the month to feedback to make a decision about the immediate future of our walks. A big majority of our volunteers were clear that they did not feel comfortable about taking on the responsibility of leading walks at that stage. Many were very concerned that once schools returned in September we might be hit by a second wave of the virus and the possibility of a second lockdown. The committee took the decision to extend the suspension of Step Out Sheffield walks for the time being and review the situation in December. Since this meeting Sheffield has been put onto the high alert list. We have not yet been put into lockdown but the chances of this happening have increased against a backdrop of rising infection rates across the whole country. We are very sorry that we are still unable to provide walkers with regular weekly walks, particularly as walking is an excellent form of exercise and we have so many lovely places in Sheffield to walk. Unless the Government instructs us otherwise though we strongly recommend you continue to walk regularly either on your own or with a friend.
Corona Virus Update (posted 9.7.20)
As lockdown restrictions are slowly being lifted people are wondering if and when the weekly Step Out Sheffield walks might become available again.
The short answer is that, for safety reasons, we don't anticipate re-launching our walks anytime soon. All but one of our walks meet in a public space such as a library, cafe, leisure centre or community hall. Some of these are unlikely to reopen for some time. Furthermore, most of our walkers and a majority of our volunteer leaders have age or health factors that put them of increased risk of severe infection.
We'll get our walks up and running as soon as it is safe to do so and will post on our website as soon as we have a start date. In the meantime we hope you have been taking the Government advice to incorporate a daily walk into your routine and recommend that you boost the health benefits this provides by walking, at a safe distance, with a friend. We are so lucky in Sheffield to have so many green spaces and parks to walk in!
We'll look forward to walking with you again as soon as we can.
Original Coronavirus notice (posted 17.3.20)
The volunteers who administrate Step Out Sheffield have advised all their volunteers that, until there is a government announcement lifting the restrictions on social contact, our weekly Step Out Sheffield walks at ALL 28 venues will cease with immediate effect and apologise for any inconvenience caused.
We are aware that many of our walkers are already socially isolated and plan to take steps to keep in touch with them.
We sincerely hope that this course of action will help keep all our walkers and volunteers safe over the next weeks and months.
We'll be back as soon as we safely can.
If in the meantime you would like to get in touch with us please phone the Step Out Sheffield helpline on 075 0563 9524 or email admin@StepOutSheffield.org. Thank you
Sue Lee
On behalf of the Step Out Sheffield management committee
Step Out Sheffield
We are a completely voluntary group who organise walks at 28 different locations each week, primarily using parks and greenspaces. All our walks are completely free, fun and sociable - three great reasons to get involved. Our walks are led by trained Walk Leaders and without their commitment we wouldn't be able to provide them. Step out Sheffield is the largest entirely voluntary Ramblers Walking for Health scheme in the country - which we are incredibly proud of!
Hear about our walks via this link to Sheffield live radio https://t.co/1XCruX0vCn
---
---
Our aims:
To improve the health of Sheffield Residents

To get you out of the house and into your local greenspaces

To encourage you to meet new people and catch up with old friends

To show you the wonderful scenery Sheffield has to offer
Why walking is good for your health
Walking gets your heart and lungs working well together

Walking lowers your blood pressure and helps keep your weight down

Walking outside in the fresh air is great for your mood

And of course walking is completely FREE!
Inclusivity
We're proud that our walks cater for everyone. Many of them are wheelchair friendly and most groups offer walks at different paces to make sure that everyone travels at a speed that is comfortable for them whatever their age or level of fitness. Guide and assistance dogs are welcome on all of our walks. Well behaved dogs are also welcome on some of our walks. Please look at our programme or contact us via email or our help line to find out more.

We're award winning!
Step out Sheffield won the "Innovation" award at the Ramblers national award ceremony in May 2017! Our scheme coordinator, Dr. Sue Lee, was presented with the award by the Ramblers Chairman, Des Garrahan. We're very proud of this award, all the more because we secured it only 18 months after we became volunteer led.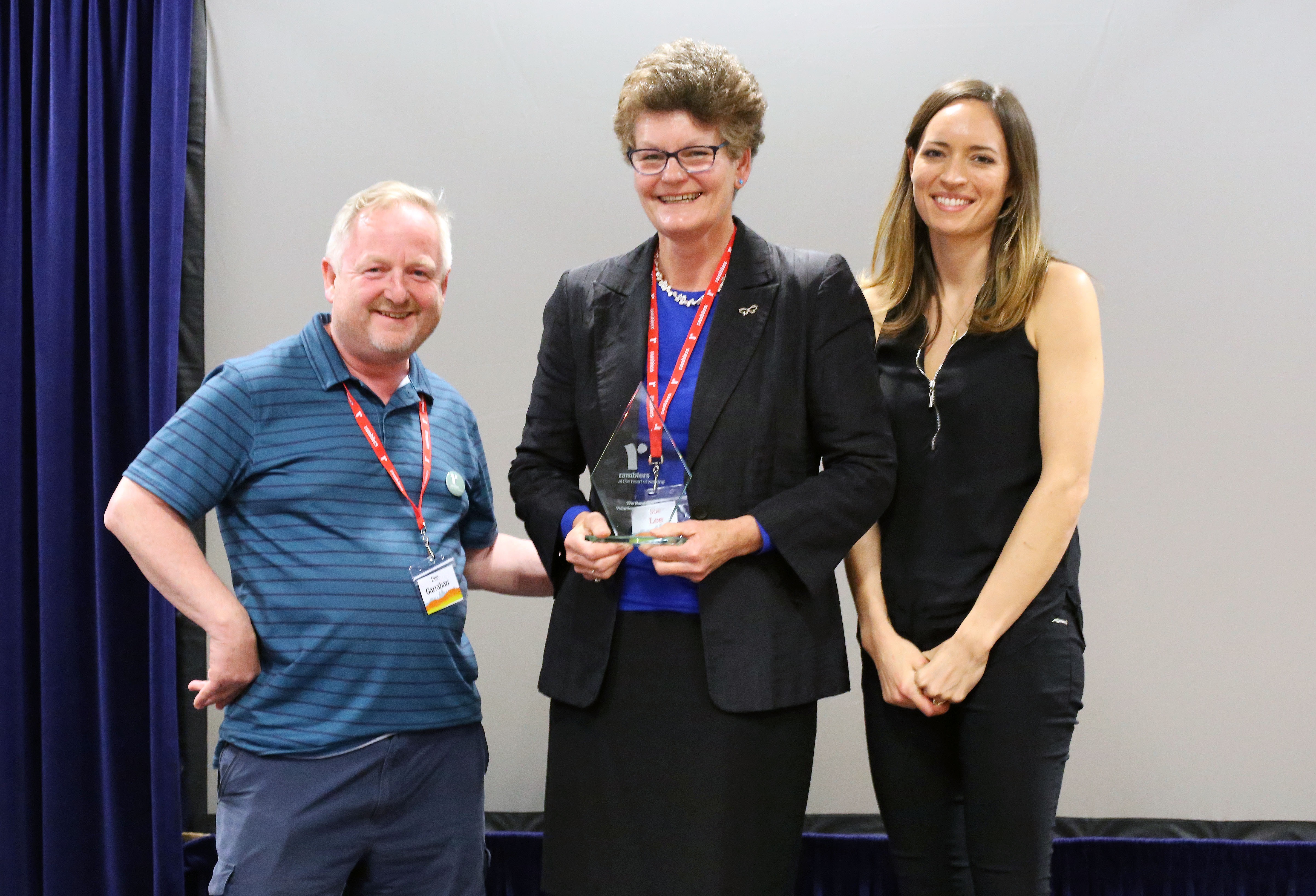 Funding
In April 2016 Sheffield City Council was no longer able to fund the employee whose job it was to co-ordinate the 160 volunteers who lead these walks. However, this didn't stop us! Staff at Walking for Health helped us put systems in place to ensure that walks continued and we got some very generous set-up grant awards from the following organisations to help us on our way.
Sheffield Church Burgesses Trust


Sheffield Town Trust
The Harry Bottom Charitable Trust
South Yorkshire Community Foundation
The Freshgate Trust Foundation
We also secured funding from the Big Lottery Fund to help cover our operational costs in 2017.
Our walks are free, fun, friendly and run every week (including school holidays!) – perfect to help you get active and meet new people. If you'd like to take part, all you have to do is come along to the start point of one of our walks a few minutes early, so that one of our trained walk leaders can take your details. Then you're free to take part in as many walks as you like, as often as you like.
If you want to know more before you start, just get in touch via the "Contact us" tab at the bottom of the home page menu, call us on 075 0563 9524 or email us on steppingoutinsheffield@gmail.com.
Walking Works

Walking works, and we have the proof! The Ramblers, who run Walking for Health, have launched Walking Works, an extensive overview of the mounting research into the life threatening consequences of inactivity, which concludes that walking is the answer.

Click on the "Ramblers Walking for Health" logo to access the national web site.



Health Walks
Why Walk?



Waking is truly accessible - almost everyone can do it anywhere and at any time. It won't cost you anything, and you don't need any fancy equipment to hit the pavement

If you still need convincing, here are a few positive things that walking can do for your health.

Help your heart and lungs work better.
Lower your blood pressure.
Keep your weight down.
Lighten your mood.
Keep your joints, muscles and bones strong.
Increase 'good' cholesterol.